Our Employees:
We hand pick hire only the best and most qualified Captains and chauffeurs in the business. All our drivers and captains undergo comprehensive FBI & local background checks Have driving records reviewed for safe driving practices complete with owner and NC DOT driving tests and finally are on a random testing program. All of our employees are CPR, First Aid, AED, trained and also hold NC CDL licenses.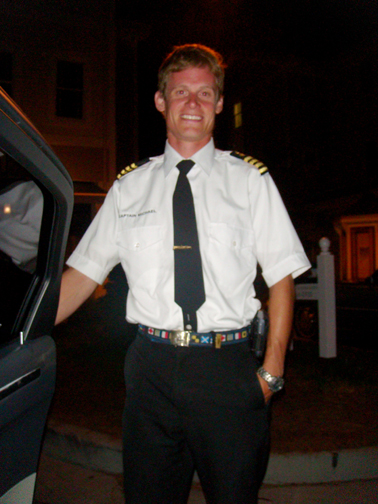 Captain Michael Scott Hamby Jr. (Owner, Captain, Chauffeur, Officiant, & Dive Instructor)
Michael Scott Hamby Jr. has years of yachting and trucking experience. He first attended Camp Seagull a world renown Sailing camp in which he worked his way up to sailing instructor with American Sailing Association. While at maritime colleges performing service and maintenance on vessels from 10ft to 900 feet first at the US Merchant Marine Academy Kingspoint, New York where he was a walk on to the sailing team and then at Maine Maritime Academy Castine, Maine where he was a member of both the offshore over 30ft racing team and the dingy team as well as an instructor for Small Vessel Operations. Michael has a U.S. Coast Guard Master's License's, an FCC Commercial Marine Radio Operator's, FCC GMDSS Maintainers License with Radar endorsement STCW 95 Basic Safety endorsements  Watch keeping, bridge team management, meteorology, Marine engineering, celestial navigation, fire fighting, cargo operations, stability, and many more. Michael has also managed a camper rental and repair facility as well as working at several different boatyards while attending the Wooden Boat School, Sea School and the Maritime Professional Training Institute. Michael is A PADI Certified SCUBA, first aid and AED instructor. As well as his extensive marine background he has worked for several wrecker services & Transport companies and holds a valid Class A CDL with passenger, doubles, triples, air brake, and tanker endorsements. Michael has also worked for several limo companies as well as being a personal chauffeur and private yacht captain for several companies and private individuals. When not teaching or working he can be found either out on the water diving, fishing, or riding on his boat. If on land he is taking one of the Vintage Cars to a carshow or camping.
Captain Michael Scott Hamby Sr. (Captain & Chauffeur)
Michael S. Hamby Sr. (Mike), graduated from NC State University with a bachelors degree in Textile Technology. Mike is currently retired and was President of Hamby Textile Research Laboratories, Inc. in Garner, North Carolina. Mike's number one hobby is racing. During his high school days, he spent time drag racing in Greensboro and at other local tracks. He also spent time watching a then young Richard Petty run the track at the NC Fairgrounds. Mike obtained experience at the track in Redbank, Tennessee while working during the summers in a textile mill in Chattanooga, Tennessee. He took up racing again during his ten years in Chicago from 1972 to 1982 as he ran stock class car for Harlem & Division Standard on Santa Fe and Sycamore Speedways. His racing hobby took a backseat to making a living but once again, he rekindled the burning desire to drive racecars after participating in the Richard Petty Driving Experience in December, 1994. Since 1994, Mike has logged hundreds of laps at Charlotte Motor Speedway, North Carolina Motor Speedway (Rockingham), Orlando Speedway, New Symrna Daytona Speedway, Las Vegas Motor Speedway, Wake County Motor Speedway, Bristol Motor Speedway, Pocono Raceway, Atlanta Motor Speedway, Phoenix Arizona Speedway, Dover Speedway and California Motor Speedway. He has trained with Berry Graham, Buck Baker, Buddy Baker, Randy Baker, Matt Mullins and Andy Hillenburg. When not on the track Mike enjoys cruising up and down the intercoastal waterway with his beautiful wife aboard the Miss Dot Dee.